As I prepare to move, I have been focusing on ensuring that I start off on a good note...that means making sure everything I bring in the new house has a place...neat and organized.
I have been searching for and purchasing items that I hope will keep order.
So far I have been focusing on the master bedroom, which means organizing my shoes, accessories, and cosmetics.
I took a trip to The Container Store. So in love with this store!!.... it was hard to focus on why I was there: Shoe Containers!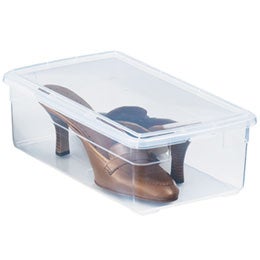 My next concern was my cosmetics and other small things like my nail polish. I purchased some cute sturdy baskets to separate these items.
I already have a lot of papers that I must organize...and I didn't want to carry the madness to a new place...so I organized the papers into accordion folders.
Still a long way to go, but I am getting there.
What ways do you stay organized in your home?